January || February || March || April || May || June || July || August
3rd
A Lesson in Vengeance by Victoria Lee
For fans of Wilder Girls and Ninth House comes a dark, twisty, atmospheric thriller about a boarding school haunted by its history of witchcraft and two girls dangerously close to digging up the past.
Felicity Morrow is back at Dalloway School.
Perched in the Catskill mountains, the centuries-old, ivy-covered campus was home until the tragic death of her girlfriend. Now, after a year away, she's returned to graduate. She even has her old room in Godwin House, the exclusive dormitory rumored to be haunted by the spirits of five Dalloway students—girls some say were witches. The Dalloway Five all died mysteriously, one after another, right on Godwin grounds.
Witchcraft is woven into Dalloway's history. The school doesn't talk about it, but the students do. In secret rooms and shadowy corners, girls convene. And before her girlfriend died, Felicity was drawn to the dark. She's determined to leave that behind her now; all Felicity wants is to focus on her senior thesis and graduate. But it's hard when Dalloway's occult history is everywhere. And when the new girl won't let her forget.
It's Ellis Haley's first year at Dalloway, and she's already amassed a loyal following. A prodigy novelist at seventeen, Ellis is a so-called "method writer." She's eccentric and brilliant, and Felicity can't shake the pull she feels to her. So when Ellis asks Felicity for help researching the Dalloway Five for her second book, Felicity can't say no. Given her history with the arcane, Felicity is the perfect resource.
And when history begins to repeat itself, Felicity will have to face the darkness in Dalloway–and in herself.
The Dead and the Dark by Courtney Gould
Courtney Gould's thrilling debut The Dead and the Dark is about the things that lurk in dark corners, the parts of you that can't remain hidden, and about finding home in places―and people―you didn't expect.
The Dark has been waiting for far too long, and it won't stay hidden any longer.
Something is wrong in Snakebite, Oregon. Teenagers are disappearing, some turning up dead, the weather isn't normal, and all fingers seem to point to TV's most popular ghost hunters who have just returned to town. Logan Ortiz-Woodley, daughter of TV's ParaSpectors, has never been to Snakebite before, but the moment she and her dads arrive, she starts to get the feeling that there's more secrets buried here than they originally let on.
Ashley Barton's boyfriend was the first teen to go missing, and she's felt his presence ever since. But now that the Ortiz-Woodleys are in town, his ghost is following her and the only person Ashley can trust is the mysterious Logan. When Ashley and Logan team up to figure out who—or what—is haunting Snakebite, their investigation reveals truths about the town, their families, and themselves that neither of them are ready for. As the danger intensifies, they realize that their growing feelings for each other could be a light in the darkness.
Like a Love Song by Gabriela Martins
This debut paperback original romance follows a Latina teen pop star whose image takes a dive after a messy public breakup, until she's set up with a swoon-worthy fake boyfriend.
Fake boyfriend. Real heartbreak?
Natalie is living her dream: topping the charts and setting records as a Brazilian pop star…until she's dumped spectacularly on live television. Not only is it humiliating—it could end her career.
Her PR team's desperate plan? A gorgeous yet oh-so-fake boyfriend. Nati reluctantly agrees, but William is not what she expected. She was hoping for a fierce bad boy—not a soft-hearted British indie film star. While she fights her way back to the top with a sweet and surprisingly swoon-worthy boy on her arm, she starts to fall for William—and realizes that maybe she's the biggest fake of them all. Can she reclaim her voice and her heart?
The Wild Ones by Nafiza Azad
From William C. Morris Finalist Nafiza Azad comes a thrilling, feminist fantasy about a group of teenage girls endowed with special powers who must band together to save the life of the boy whose magic saved them all.
Meet the Wild Ones: girls who have been hurt, abandoned, and betrayed all their lives. It all began with Paheli, who was once betrayed by her mother and sold to a man in exchange for a favor. When Paheli escapes, she runs headlong into a boy with stars in his eyes. This boy, as battered as she is, tosses Paheli a box of stars before disappearing.
With the stars, Paheli gains access to the Between, a place of pure magic and mystery. Now, Paheli collects girls like herself and these Wild Ones use their magic to travel the world, helping the hopeless and saving others from the fates they suffered.
Then Paheli and the Wild Ones learn that the boy who gave them the stars, Taraana, is in danger. He's on the run from powerful forces within the world of magic. But if Taraana is no longer safe and free, neither are the Wild Ones. And that…is a fate the Wild Ones refuse to accept. Ever again.
Dangerous Play by Emma Kress
A fierce team of girls takes back the night in this propulsive, electrifying, and high-stakes YA debut from Emma Kress
Zoe Alamandar has one goal: win the State Field Hockey Championships and earn a scholarship that will get her the hell out of Central New York. She and her co-captain Ava Cervantes have assembled a fierce team of dedicated girls who will work hard and play by the rules.
But after Zoe is sexually assaulted at a party, she finds a new goal: make sure no girl feels unsafe again. Zoe and her teammates decide to stop playing by the rules and take justice into their own hands. Soon, their suburban town has a team of superheroes meting out punishments, but one night of vigilantism may cost Zoe her team, the championship, her scholarship, and her future.
Perfect for fans who loved the female friendships of Jennifer Mathieu's Moxie and the bite of Courtney Summer's Sadie.
Bounded Fate by Beck Michaels
The stakes are higher, new questions will surface, and more blood will spill in the thrilling sequel of the Guardians of the Maiden fantasy series.
Reeling from Cassiel's confession, Dyna struggles to understand what the Blood Bond means for them both, all the while trying to stay one step ahead of a newfound enemy. When reuniting with a familiar sorceress, she realizes the only way to defeat Tarn is to find her Guardians—all of them.
Cassiel never meant to tie himself to a human, especially one that inexplicably draws him. But then the bond develops a startling change, and it puts into question everything he thought he knew.
Zev straddles the line between human and wolf, unsure if his dark thoughts truly belong to the Madness. It's growing stronger, determined to take over—and he may just let it.
The journey to get the answers they each need will test them all. But what Dyna doesn't know is that it comes with a price, and it may cost more than she bargained for.
A Dragonbird in the Fern by Laura Rueckert
When an assassin kills Princess Jiara's older sister Scilla, her vengeful ghost is doomed to walk their city of glittering canals, tormenting loved ones until the murderer is brought to justice. While the entire kingdom mourns, Scilla's betrothed arrives and requests that seventeen-year-old Jiara take her sister's place as his bride to confirm the alliance between their countries.
Marrying the young king intended for her sister and traveling to his distant home is distressing enough, but with dyslexia and years of scholarly struggles, Jiara abandoned any hope of learning other languages long ago. She's terrified of life in a foreign land where she'll be unable to communicate.
Then Jiara discovers evidence that her sister's assassin comes from the king's own country. If she marries the king, Jiara can hunt the murderer and release her family from Scilla's ghost, whose thirst for blood mounts every day. To save her family, Jiara must find her sister's killer . . . before he murders her too.
Fresh by Margot Wood
A hilarious and vulnerable coming-of-age story about the thrilling new experiences––and missteps––of a girl's freshman year of college
Some students enter their freshman year of college knowing exactly what they want to do with their lives. Elliot McHugh is not one of those people. But picking a major is the last thing on Elliot's mind when she's too busy experiencing all that college has to offer—from dancing all night at off-campus parties, to testing her RA Rose's patience, to making new friends, to having the best sex one can have on a twin-sized dorm room bed. But she may not be ready for the fallout when reality hits. When the sex she's having isn't that great. When finals creep up and smack her right in the face. Or when her roommate's boyfriend turns out to be the biggest a-hole. Elliot may make epic mistakes, but if she's honest with herself (and with you, dear reader), she may just find the person she wants to be. And maybe even fall in love in the process . . . Well, maybe.
Mercury Boys by Chandra Prasad
History and the speculative collide with the modern world when a group of high school girls form a secret society after discovering they can communicate with boys from the past, in this powerful look at female desire, jealousy, and the shifting lines between friendship and rivalry.
After her life is upended by divorce and a cross-country move, 16-year-old Saskia Brown feels like an outsider at her new school—not only is she a transplant, she's biracial in a population of mostly white students. One day while visiting her only friend at her part-time library job, Saskia encounters a vial of liquid mercury, then touches an old daguerreotype—the precursor of the modern-day photograph—and makes a startling discovery. She is somehow able to visit the man in the portrait: Robert Cornelius, a brilliant young inventor from the nineteenth century. The hitch: she can see him only in her dreams.
Saskia shares her revelation with some classmates, hoping to find connection and friendship among strangers. Under her guidance, the other girls steal portraits of young men from a local college's daguerreotype collection and try the dangerous experiment for themselves. Soon, they each form a bond with their own "Mercury Boy," from an injured Union soldier to a charming pickpocket in New York City.
At night, the girls visit the boys in their dreams. During the day, they hold clandestine meetings of their new secret society. At first, the Mercury Boys Club is a thrilling diversion from their troubled everyday lives, but it's not long before jealousy, violence, and secrets threaten everything the girls hold dear.
Like Other Girls by Britta Lundin
After getting kicked off the basketball team for a fight that was absolutely totally not her fault (okay maybe a little her fault), Mara is dying to find a new sport to play to prove to her coach that she can be a team player. A lifelong football fan, Mara decides to hit the gridiron with her brother, Noah, and best friend, Quinn-and she turns out to be a natural. But joining the team sets off a chain of events in her small Oregon town-and within her family-that she never could have predicted.
Inspired by what they see as Mara's political statement, four other girls join the team. Now Mara's lumped in as one of the girls-one of the girls who can't throw, can't kick, and doesn't know a fullback from a linebacker. Complicating matters is the fact that Valentina, Mara's crush, is one of the new players, as is Carly, Mara's nemesis-the girl Mara fought with when she was kicked off the basketball team. What results is a coming-of-age story that is at once tear-jerking and funny, thought-provoking and real, as Mara's preconceived notions about gender, sports, sexuality, and friendship are turned upside down.
A Feeling like Home by Haleigh Wenger
Sixteen-year-old Paige Williams can't stop self-sabotaging.
Not when her dad gets sick, not when her relationship implodes, not even when her parents send her to another-freaking-state for the summer to live with her sister. Paige just wants to have fun, spray paint a few walls, and block out everything stressful, including her growing concern that she might be sick as well. To make things worse, her parents threaten her with boarding school in the fall if she can't prove she's changed her bad habits.
Paige's parents sign her up for a rebuilding project in Texas where her sister lives. Meanwhile, Paige reluctantly befriends her sister's straight-laced teenage neighbor, Joey, who is a frequent guest. He's so different from her, but Paige realizes that may not be a bad thing, especially since being around Joey curbs her urge to vandalize and ignore the rules. He even makes her forget about the debilitating stomach cramps she struggles to hide.
Just as Paige begins to feel settled in Texas, her dad's worsening Crohn's disease brings her home to Seattle. When her own health fails her, she has the choice of staying at home and receiving care. Or, she could go back to Texas and prove for once and for all that she's more than her mistakes and more than a disease. Torn between two worlds and two versions of herself, Paige must decide where, and with whom, she truly feels at home.
The Perfect Place to Die by Bryce Moore
Stalking Jack the Ripper meets Devil in the White City. In order to save her sister, Zuretta takes a job at a notorious house of horrors—but she might never escape.
Zuretta never thought she'd encounter a monster—one of the world's most notorious serial killers. She had resigned herself to a quiet life in Utah. But when her younger sister, Ruby, travels to Chicago during the World's Fair, and disappears, Zuretta leaves home to find her.
But 1890s Chicago is more dangerous and chaotic than she imagined. She doesn't know where to start until she learns of her sister's last place of employment…a mysterious hotel known as The Castle.
Zuretta takes a job there hoping to learn more. And before long she realizes the hotel isn't what it seems. Women disappear at an alarming rate, she hears crying from the walls, and terrifying whispers follow her at night. In the end, she finds herself up against one of the most infamous mass murderers in American history—and his custom-built death trap.
10th
In the Wild Light by Jeff Zentner
From the award-winning author of The Serpent King comes a beautiful examination of grief, found family, and young love.
Life in a small Appalachian town is not easy. Cash lost his mother to an opioid addiction and his Papaw is dying slowly from emphysema. Dodging drug dealers and watching out for his best friend, Delaney, is second nature. He's been spending his summer mowing lawns while she works at Dairy Queen.
But when Delaney manages to secure both of them full rides to an elite prep school in Connecticut, Cash will have to grapple with his need to protect and love Delaney, and his love for the grandparents who saved him and the town he would have to leave behind.
Cheer Up: Love and Pompoms by Crystal Frasier, illustrated by Val Wise
A sweet, queer teen romance perfect for fans of Fence and Check, Please!
Annie is a smart, antisocial lesbian starting her senior year of high school who's under pressure to join the cheerleader squad to make friends and round out her college applications. Her former friend BeeBee is a people-pleaser—a trans girl who must keep her parents happy with her grades and social life to keep their support of her transition. Through the rigors of squad training and amped up social pressures (not to mention micro aggressions and other queer youth problems), the two girls rekindle a friendship they thought they'd lost and discover there may be other, sweeter feelings springing up between them.
How Moon Fuentez Fell in Love with the Universe by Raquel Vasquez Gilliland
The Hating Game meets I Am Not Your Perfect Mexican Daughter in this irresistible romance starring a Mexican American teen who discovers love and profound truths about the universe when she spends her summer on a road trip across the country.
When her twin sister reaches social media stardom, Moon Fuentez accepts her fate as the ugly, unwanted sister hidden in the background, destined to be nothing more than her sister's camerawoman. But this summer, Moon also takes a job as the "merch girl" on a tour bus full of beautiful influencers and her fate begins to shift in the best way possible.
Most notable is her bunkmate and new nemesis, Santiago Phillips, who is grumpy, combative, and also the hottest guy Moon has ever seen.
Moon is certain she hates Santiago and that he hates her back. But as chance and destiny (and maybe, probably, close proximity) bring the two of them in each other's perpetual paths, Moon starts to wonder if that's really true. She even starts to question her destiny as the unnoticed, unloved wallflower she always thought she was.
Could this summer change Moon's life as she knows it?
Rise Up from the Embers by Sara Raasch and Kristen Simmons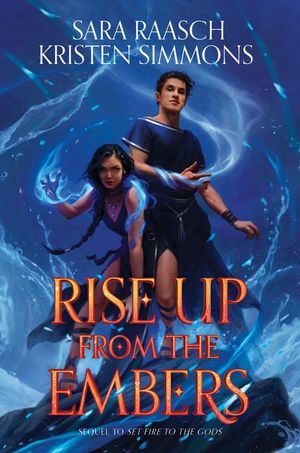 Avatar: The Last Airbender meets Gladiator in this epic duology conclusion about two elemental gladiators swept up in an ancient war between immortals and humans—from Sara Raasch, the New York Times bestselling author of the Snow Like Ashes series, and Kristen Simmons, acclaimed author of Pacifica and The Deceivers. Perfect for fans of An Ember in the Ashes, And I Darken, and The Winner's Curse.
Two gods are dead. The Mother Goddess has returned. War is rising.
Fleeing the ruins of Deimos, Ash and Madoc sail across the ocean toward their only possible allies: the water and plant gods. But when Anathrasa attacks on the way, Ash leaps to the defense—by using a power she didn't know she had.
When Madoc made the fire and earth gods mortal, he inadvertently transferred their magic to Ash. Now, if Ash can get energeias from the other four gods, she will be powerful enough to end Anathrasa once and for all.
But not all the gods want the Mother Goddess defeated. To stop her, Madoc will have to become the obedient son his mother always wanted, and Ash will have to take a merciless place among the gods.
To defeat an immortal, Ash and Madoc must fight like gods—even if it means sacrificing their humanity.
The Devil Makes Three by Tori Bovalino
Tess Matheson only wants three things: time to practice her cello, for her sister to be happy, and for everyone else to leave her alone.
Instead, Tess finds herself working all summer at her boarding school library, shelving books and dealing with the intolerable patrons. The worst of them is Eliot Birch: snide, privileged, and constantly requesting forbidden grimoires. After a bargain with Eliot leads to the discovery of an ancient book in the library's grimoire collection, the pair accidentally unleash a book-bound demon.
The demon will stop at nothing to stay free, manipulating ink to threaten those Tess loves and dismantling Eliot's strange magic. Tess is plagued by terrible dreams of the devil and haunting memories of a boy who wears Eliot's face. All she knows is to stay free, the demon needs her… and he'll have her, dead or alive.
Marked of the Wicked by Georgia Bowers
A young witch tries to unravel the mystery of who is framing her for dark magic in Georgia Bowers' creepy YA debut fantasy, Mark of the Wicked.
Magic always leaves its mark.
All her life, Matilda has been told one thing about her magic: You use only when necessary. But Matilda isn't interested in being a good witch. She wants revenge and popularity, and to live her life free of consequences, free of the scars that dark magic leaves on her face as a reminder of her misdeeds.
When a spell goes awry and the new boy at school catches her in the act, Matilda thinks her secret might be out. But far from being afraid, Oliver already knows about her magic – and he wants to learn more. As Oliver and Matilda grow closer, bizarre things begin to happen: Animals show up with their throats slashed and odd markings carved into their bodies, a young girl dies mysteriously, and everyone blames Matilda. But she isn't responsible — at least, not that she can remember. As her magic begins to spin out of control, Matilda must decide for herself what makes a good witch, and discover the truth…before anyone else turns up dead.
The Sisters of Reckoning by Charlotte Nicole Davis
The Sisters of Reckoning is the blockbuster sequel to Charlotte Nicole Davis's alternate Old West-set commercial fantasy adventure.
The Good Luck Girls are free. Aster's sister and friends have new lives across the border in Ferron, while Aster remains in Arketta, helping more girls escape. But news of a new welcome house opening fills Aster with a need to do more than just help individual girls. And an unexpected reunion gives her an idea of how to do it. From there, grows a wildly ambitious plan to free all dustbloods, who live as prisoners to Arketta's landmasters and debt slavery.
When Clementine and the others return from Ferron, they become the heart of a vibrant group of fearless fighters, working to unite the various underclasses and convince them to join in the fight. Along the way, friendships will be forged, lives will be lost, and love will take root even in the harshest of circumstances, between the most unexpected of lovers.
But will Arketta's dustbloods finally come into power and freedom, or will the resistance just open them up to a new sort of danger?
Eyes of the Forest by April Henry
After a bestselling fantasy author disappears, only his biggest fan believes he's in danger and has the courage to uncover the truth in this fast-paced mystery with a chilling psychological twist.
Bridget is RM Haldon's biggest fan. His epic fantasy series, Swords and Shadows, created a lifeline between Bridget and her mom as she lost her battle with cancer. When Bridget met Haldon at his only book signing, she impressed the author with her encyclopedic knowledge of the fantasy world he'd created. Bridget has been working for him ever since as he attempts to write his final book. Now, Haldon is missing, and Bridget is the only person who seems concerned. Can Bridget piece together Haldon's clues and save him before it's too late?
17th
Ashfall Legacy by Pittacus Lore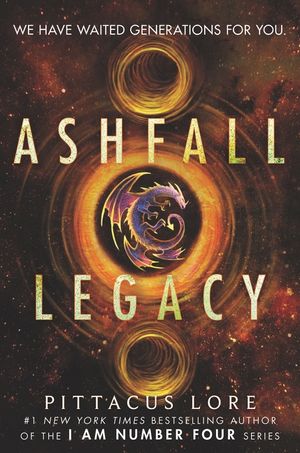 Pittacus Lore finished telling the story of the Lorien Nine in the New York Times bestselling I Am Number Four and Lorien Legacies Reborn series. Now he's back to recount an all-new adventure rooted in the real mysteries surrounding Roswell, New Mexico, that will enthrall fans of Brandon Sanderson, Jay Kristoff, and Amie Kaufman.
We have waited generations for you…
Syd Chambers knows that there's life on other planets because he's descended from it. His father was from a distant world called Denza and has been missing—presumed dead—for years.
When Syd discovers a device his father left behind which shows not only that he's alive, but where he is, Syd must set out on a mission of his own. But along the way, he discovers a deadly, unbearable secret that could destroy Denza, Earth, and the universe.
How We Fall Apart by Katie Zhao
Students at an elite prep school are forced to confront their secrets when their ex-best friend turns up dead.
Nancy Luo is shocked when her former best friend, Jamie Ruan, top ranked junior at Sinclair Prep, goes missing, and then is found dead. Nancy is even more shocked when word starts to spread that she and her friends–Krystal, Akil, and Alexander–are the prime suspects, thanks to "The Proctor," someone anonymously incriminating them via the school's social media app.
They all used to be Jamie's closest friends, and she knew each of their deepest, darkest secrets. Now, somehow The Proctor knows them, too. The four must uncover the true killer before The Proctor exposes more than they can bear and costs them more than they can afford, like Nancy's full scholarship. Soon, Nancy suspects that her friends may be keeping secrets from her, too.
Redemptor by Jordan Ifueko
The hotly anticipated sequel to the instant New York Times bestselling YA fantasy about Tarisai's quest to change her fate
For the first time, an Empress Redemptor sits on Aritsar's throne. To appease the sinister spirits of the dead, Tarisai must now anoint a council of her own, coming into her full power as a Raybearer. She must then descend into the Underworld, a sacrifice to end all future atrocities.
Tarisai is determined to survive. Or at least, that's what she tells her increasingly distant circle of friends. Months into her shaky reign as empress, child spirits haunt her, demanding that she pay for past sins of the empire.
With the lives of her loved ones on the line, assassination attempts from unknown quarters, and a handsome new stranger she can't quite trust . . . Tarisai fears the pressure may consume her. But in this finale to the Raybearer duology, Tarisai must learn whether to die for justice . . . or to live for it.
(Me) Moth by Amber McBride
A debut YA novel-in-verse that is both a coming-of-age and a ghost story.
Moth has lost her family in an accident. Though she lives with her aunt, she feels alone and uprooted.
Until she meets Sani, a boy who is also searching for his roots. If he knows more about where he comes from, maybe he'll be able to understand his ongoing depression. And if Moth can help him feel grounded, then perhaps she too will discover the history she carries in her bones.
Moth and Sani take a road trip that has them chasing ghosts and searching for ancestors. The way each moves forward is surprising, powerful, and unforgettable.
Here is an exquisite and uplifting novel about identity, first love, and the ways that our memories and our roots steer us through the universe.
The Endless Skies by Shannon Price
High above the sea, floats the pristine city of the Heliana. Home to winged-lion shapeshifters―the Leonodai―and protected from the world of humans by an elite group of warriors, the Heliana has only known peace.
After years of brutal training, seventeen-year-old Rowan is ready to prove her loyalty to the city and her people to become one of the Leonodai warriors. But before Rowan can take the oath, a deadly disease strikes the city's children. Soon the warriors―including two of Rowan's closest friends―are sent on a dangerous mission to find a fabled panacea deep within enemy lands.
Left behind, Rowan learns a devastating truth that could compromise the mission and the fate of the Heliana itself. She must make a decision: stay with the city and become a warrior like she always dreamed, or risk her future in an attempt to save everyone she loves. Whatever Rowan decides, she has to do it fast, because time is running out, and peace can only last so long…
Phantom Heart by Kelly Creagh
Seventeen-year-old Stephanie Armand doesn't believe in ghosts or spirits. Despite her six-year-old sister, Charlie, insisting a masked figure is hiding in her closet, and the rumors at school, Stephanie isn't convinced her father's latest renovation project–a crumbling Victorian mansion–houses the soul of a monster.
So when the very charming (and paranormal obsessed) Lucas Cheney takes an interest in both Stephanie and her notorious home, the supernatural and romantic activity escalates to an all-time high. And that doesn't even take into account the dashing, British-accented eighteen-year-old boy, Erik, who's taken up residence in Stephanie's nightly dreams. A boy who may have something to do with the man in the mask, and the strange occurrences taking place at Moldavia.
A steamy YA romance with Twilight vibes, inspired by Gaston Leroux's classic The Phantom of the Opera
Cazadora by Romina Garber
In Cazadora, the follow-up to Lobizona, Romina Garber continues to weave Argentine folklore and real-world issues into a haunting, fantastical, and romantic story that will reunite readers with Manu and her friends as they continue to fight for a better future.
24th
Bad Witch Burning by Jessica Lewis
For fans of Lovecraft Country and Candyman comes a witchy story full of Black girl magic as one girl's dark ability to summon the dead offers her a chance at a new life, while revealing to her an even darker future.
Katrell can talk to the dead. And she wishes it made more money. She's been able to support her unemployed mother–and Mom's deadbeat-boyfriend-of-the-week–so far, but it isn't enough. Money's still tight, and to complicate things, Katrell has started to draw attention. Not from this world–from beyond. And it comes with a warning: STOP or there will be consequences.
Katrell is willing to call the ghosts on their bluff; she has no choice. What do ghosts know of having sleep for dinner? But when her next summoning accidentally raises someone from the dead, Katrell realizes that a live body is worth a lot more than a dead apparition. And, warning or not, she has no intention of letting this lucrative new business go.
Only magic isn't free, and dark forces are coming to collect. Now Katrell faces a choice: resign herself to poverty, or confront the darkness before it's too late.
Devil in the Device by Lora Beth Johnson
The thrilling, much-anticipated conclusion to Lora Beth Johnson's Goddess in the Machine duology.
Zhade's power might be going to his head.
He's still getting used to wearing Maret's face, but he can't deny that the influence it affords him has its perks. But when the magic of Eerensed starts to turn deadly, Zhade must master the Crown if he's going to save his people, and Tsurina's destructive plans for Eerensed aren't going to make that easy. Worse, he's starting to see her point.
Meanwhile, Andra is in hiding.
Assumed dead by the people of Eerensed, she must stay underground if she's going to live long enough to build the rocket that will finally save the colonists from this dying planet. But when Andra hears voices urging her to destroy everything, she starts to dig deeper into her subconcious. What she finds leads her to question whether she's destined to be a savior after all.
Battling the dangerous forces buried within their minds, can Andra and Zhade truly decide their own fates? They must find a way to work together before two power-hungry leaders and a deadly swarm of rogue technology destroy humanity for good.
Vampires, Hearts, and Other Dead Things by Margie Fuston
In this heart-wrenching debut YA novel that's The Coldest Girl in Coldtown meets They Both Die at the End, a teen girl takes a trip to New Orleans with her estranged best friend to find a vampire to save her dying father.
Victoria and her dad have shared a love of the undead since the first vampire revealed his existence on live TV. Public fear soon drove the vampires back into hiding, yet Victoria and her father still dream about finding a vampire together. But when her dad is diagnosed with terminal cancer, it's clear that's not going to happen. Instead, Victoria vows to find a vampire herself—so that she can become one and then save her father.
Armed with research, speculations, and desperation—and helped by her estranged best friend, Henry—Victoria travels to New Orleans in search of a miracle. There she meets Nicholas, a mysterious young man who might give her what she desires. But first, he needs Victoria to prove she loves life enough to live forever.
She agrees to complete a series of challenges, from scarfing sugar-drenched beignets to singing with a jazz band, all to show she has what it takes to be immortal. But truly living while her father is dying feels like a betrayal. Victoria must figure out how to experience joy and grief at once, trusting all the while that Nicholas will hold up his end of the bargain…because the alternative is too impossible to imagine.
Beyond the Mapped Stars by Rosalyn Eves
A sweeping adventure, set in the late 19th century, about science, love, and finding your place in the world, perfect for fans of Ruta Sepetys and Julie Berry.
Seventeen-year-old Elizabeth Bertelsen dreams of becoming an astronomer, but she knows such dreams are as unreachable as the stars she so deeply adores. As a Mormon girl, her duty is to her family and, in a not too far away future, to the man who'll choose to marry her.
When she unexpectedly finds herself in Colorado, she's tempted by the total eclipse of the sun that's about to happen—and maybe even meeting up with the female scientists she's long admired. Elizabeth must learn to navigate this new world of possibility: with her familial duties and faith tugging at her heartstrings, a new romance on the horizon, and the study of the night sky calling to her, she can't possibly have it all…can she?
Both Sides Now by Peyton Thomas
Gilmore Girls meets Red, White and Royal Blue in this witty and warm-hearted novel about a trans teen finding his place in the world.
There's only one thing standing between Finch Kelly and a full-blown case of high school senioritis: the National Speech & Debate Tournament. Taking home the gold would not only be the pinnacle of Finch's debating career, but the perfect way to launch himself into his next chapter: college in Washington, D.C. and a history-making career as the first trans congressman. What could possibly go wrong?
Well, for starters, Finch could develop a teeny tiny crush on his very attractive, very taken, and very gay debate partner, Jonah. Never mind that Finch has never considered whether he's interested in more than just girls.
And that dream of college in DC? Finch hasn't exactly been accepted anywhere yet, let alone received the full-ride scholarship he'll need to make this dream a reality.
Worst of all, though, is this year's topic for Nationals: transgender rights. If he wants to cinch the gold, and get into college, Finch might have to argue against his own humanity.
People say there are two sides to every argument. But, as Finch is about to discover, some things–like who you are and who you love–are not up for debate.
Edie in Between by Laura Sibson
A modern-day Practical Magic about love, loss, and embracing the mystical.
It's been one year since Edie's mother died. But her ghost has never left.
According to her GG, it's tradition that the dead of the Mitchell family linger with the living. It's just as much a part of a Mitchell's life as brewing cordials or talking to plants. But Edie, whose pain over losing her mother is still fresh, has no interest in her family's legacy as local "witches."
When her mother's teenage journal tumbles into her life, her family's mystical inheritance becomes once and for all too hard to ignore. It takes Edie on a scavenger hunt to find objects that once belonged to her mother, each one imbued with a different memory. Every time she touches one of these talismans, it whisks her to another entry inside the journal—where she watches her teenage mom mourn, love, and hope just as Edie herself is now doing. Maybe, just maybe, Edie hopes, if she finds every one of these objects, she can finally make peace with her loss and put the past to rest for good. But this journey to stake her independence from her family may actually show Edie who she truly is…and the beautiful gifts that come with being just a little different.
31st
The Witch Haven by Sasha Peyton Smith
The Last Magician meets The Lady's Guide to Petticoats and Piracy in this thrilling and atmospheric historical fantasy following a young woman who discovers she has magical powers and is thrust into a battle between witches and wizards.
In 1911 New York City, seventeen-year-old Frances Hallowell spends her days as a seamstress, mourning the mysterious death of her brother months prior. Everything changes when she's attacked and a man ends up dead at her feet—her scissors in his neck, and she can't explain how they got there.
Before she can be condemned as a murderess, two cape-wearing nurses arrive to inform her she is deathly ill and ordered to report to Haxahaven Sanitarium. But Frances finds Haxahaven isn't a sanitarium at all: it's a school for witches. Within Haxahaven's glittering walls, Frances finds the sisterhood she craves, but the headmistress warns Frances that magic is dangerous. Frances has no interest in the small, safe magic of her school, and is instead enchanted by Finn, a boy with magic himself who appears in her dreams and tells her he can teach her all she's been craving to learn, lessons that may bring her closer to discovering what truly happened to her brother.
Frances's newfound power attracts the attention of the leader of an ancient order who yearns for magical control of Manhattan. And who will stop at nothing to have Frances by his side. Frances must ultimately choose what matters more, justice for her murdered brother and her growing feelings for Finn, or the safety of her city and fellow witches. What price would she pay for power, and what if the truth is more terrible than she ever imagined?
Forestborn by Elayne Audrey Becker
TO BE BORN OF THE FOREST IS A GIFT AND A CURSE.

Rora is a shifter, as magical as all those born in the wilderness–and as feared. She uses her abilities to spy for the king, traveling under different guises and listening for signs of trouble.
When a magical illness surfaces across the kingdom, Rora uncovers a devastating truth: Finley, the young prince and her best friend, has caught it, too. His only hope is stardust, the rarest of magical elements, found deep in the wilderness where Rora grew up–and to which she swore never to return.
But for her only friend, Rora will face her past and brave the dark, magical wood, journeying with her brother and the obstinate, older prince who insists on coming. Together, they must survive sentient forests and creatures unknown, battling an ever-changing landscape while escaping human pursuers who want them dead. With illness gripping the kingdom and war on the horizon, Finley's is not the only life that hangs in the balance.
The Woods Are Always Watching by Stephanie Perkins
Bears aren't the only predators in these woods.
Best friends Neena and Josie spent high school as outsiders, but at least they had each other. Now, with college and a two-thousand-mile separation looming on the horizon, they have one last chance to be together—a three-day hike deep into the woods of the Pisgah National Forest.
Simmering tensions lead to a detour off the trail and straight into a waking nightmare … and then into something far worse. Something that will test them in horrifying ways.
Stephanie Perkins, the bestselling author of There's Someone Inside Your House, returns with a heart-stopping, gut-wrenching novel about friendship, survival, and navigating unmarked paths even as evil watches from the shadows.
Anything but Fine by Tobias Madden
Luca Mason has been preparing to audition for the Australian Ballet School for more than a decade when a missed step on a flight of stairs lands him in hospital. But it's not all bad—as Luca settles into a life of doctor's appointments, unwieldy crutches, and absolutely no ballet (and no, he does not want to talk about it) he strikes up an unlikely friendship with the perfect-in-every-way rowing star of his new school, Jordan Tanaka-Jones.
Enola Holmes and the Black Carouche by Nancy Springer
Enola Holmes is the much younger sister of her more famous brothers, Sherlock and Mycroft. But she has all the wits, skills, and sleuthing inclinations of them both. At fifteen, she's an independent young woman–after all, her name spelled backwards reads 'alone'–and living on her own in London. When a young professional woman, Miss Letitia Glover, shows up on Sherlock's doorstep, desperate to learn more about the fate of her twin sister, it is Enola who steps up. It seems her sister, the former Felicity Glover, married the Earl of Dunhench and per a curt note from the Earl, has died. But Letitia Glover is convinced this isn't the truth, that she'd know–she'd feel–if her twin had died.
The Earl's note is suspiciously vague and the death certificate is even more dubious, signed it seems by a John H. Watson, M.D. (who denies any knowledge of such). The only way forward is for Enola to go undercover–or so Enola decides at the vehement objection of her brother. And she soon finds out that this is not the first of the Earl's wives to die suddenly and vaguely–and that the secret to the fate of the missing Felicity is tied to a mysterious black barouche that arrived at the Earl's home in the middle of the night. To uncover the secrets held tightly within the Earl's hall, Enola is going to require help–from Sherlock, from the twin sister of the missing woman, and from an old friend, the young Viscount Tewkesbury, Marquess of Basilwether!
The Last Words We Said by Leah Scheier
Nine months ago, Danny disappeared and everything changed for his friends. Rae's pouring herself into rage-baking. Deenie's deepening her commitment to Orthodox Judaism. And Ellie—Danny's best friend and girlfriend—is the only one who doesn't believe he's dead.
Because she still sees him.
Moving back and forth between past and present, the story of Ellie and Danny unspools, from their serendipitous meeting to Danny and Ellie falling for each other. In the past, they were the perfect couple—until it all went wrong. In the present, Ellie's looking for answers. Her friends are worried about her mental health, but Ellie's certain that the tragedy that's rocked their modern Orthodox community isn't as simple as they all believe. She's determined to uncover the truth about what happened to the love of her life. But to do that, she'll have to be more honest with herself.
Perceiver by E.C. Fuller
Moving to a new town was not on Hattie's to-do list for the summer.
Her arrival in Applewood brings nothing but strange things to her doorstep. A bendable boy guards an abandoned orchard. A cactus gives her a bullet. A monster made of oil stalks those around her.
And nobody can see them but her.
When traveling consultants show up on her doorstep, a chance encounter with the boy named Jack forces them to confront the monsters and their intertwined fates. Worse yet, the lives of the people she loves now hang by a thread.
When her world collides with another, Hattie must make a choice: save herself or save her parents.
Tsava awaits.
Perceiver is the first book in The Perceiver Trilogy, a YA fantasy series with magical creatures and grand adventures.