In the Wild Light by Jeff Zentner
From the award-winning author of The Serpent King comes a beautiful examination of grief, found family, and young love.
Life in a small Appalachian town is not easy. Cash lost his mother to an opioid addiction and his Papaw is dying slowly from emphysema. Dodging drug dealers and watching out for his best friend, Delaney, is second nature. He's been spending his summer mowing lawns while she works at Dairy Queen.
But when Delaney manages to secure both of them full rides to an elite prep school in Connecticut, Cash will have to grapple with his need to protect and love Delaney, and his love for the grandparents who saved him and the town he would have to leave behind.
Cheer Up: Love and Pompoms by Crystal Frasier, illustrated by Val Wise
A sweet, queer teen romance perfect for fans of Fence and Check, Please!
Annie is a smart, antisocial lesbian starting her senior year of high school who's under pressure to join the cheerleader squad to make friends and round out her college applications. Her former friend BeeBee is a people-pleaser—a trans girl who must keep her parents happy with her grades and social life to keep their support of her transition. Through the rigors of squad training and amped up social pressures (not to mention micro aggressions and other queer youth problems), the two girls rekindle a friendship they thought they'd lost and discover there may be other, sweeter feelings springing up between them.
How Moon Fuentez Fell in Love with the Universe by Raquel Vasquez Gilliland
The Hating Game meets I Am Not Your Perfect Mexican Daughter in this irresistible romance starring a Mexican American teen who discovers love and profound truths about the universe when she spends her summer on a road trip across the country.
When her twin sister reaches social media stardom, Moon Fuentez accepts her fate as the ugly, unwanted sister hidden in the background, destined to be nothing more than her sister's camerawoman. But this summer, Moon also takes a job as the "merch girl" on a tour bus full of beautiful influencers and her fate begins to shift in the best way possible.
Most notable is her bunkmate and new nemesis, Santiago Phillips, who is grumpy, combative, and also the hottest guy Moon has ever seen.
Moon is certain she hates Santiago and that he hates her back. But as chance and destiny (and maybe, probably, close proximity) bring the two of them in each other's perpetual paths, Moon starts to wonder if that's really true. She even starts to question her destiny as the unnoticed, unloved wallflower she always thought she was.
Could this summer change Moon's life as she knows it?
Rise Up from the Embers by Sara Raasch and Kristen Simmons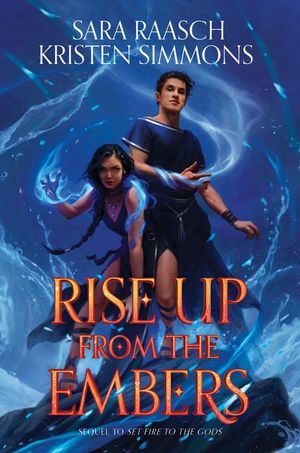 Avatar: The Last Airbender meets Gladiator in this epic duology conclusion about two elemental gladiators swept up in an ancient war between immortals and humans—from Sara Raasch, the New York Times bestselling author of the Snow Like Ashes series, and Kristen Simmons, acclaimed author of Pacifica and The Deceivers. Perfect for fans of An Ember in the Ashes, And I Darken, and The Winner's Curse.
Two gods are dead. The Mother Goddess has returned. War is rising.
Fleeing the ruins of Deimos, Ash and Madoc sail across the ocean toward their only possible allies: the water and plant gods. But when Anathrasa attacks on the way, Ash leaps to the defense—by using a power she didn't know she had.
When Madoc made the fire and earth gods mortal, he inadvertently transferred their magic to Ash. Now, if Ash can get energeias from the other four gods, she will be powerful enough to end Anathrasa once and for all.
But not all the gods want the Mother Goddess defeated. To stop her, Madoc will have to become the obedient son his mother always wanted, and Ash will have to take a merciless place among the gods.
To defeat an immortal, Ash and Madoc must fight like gods—even if it means sacrificing their humanity.
The Devil Makes Three by Tori Bovalino
Tess Matheson only wants three things: time to practice her cello, for her sister to be happy, and for everyone else to leave her alone.
Instead, Tess finds herself working all summer at her boarding school library, shelving books and dealing with the intolerable patrons. The worst of them is Eliot Birch: snide, privileged, and constantly requesting forbidden grimoires. After a bargain with Eliot leads to the discovery of an ancient book in the library's grimoire collection, the pair accidentally unleash a book-bound demon.
The demon will stop at nothing to stay free, manipulating ink to threaten those Tess loves and dismantling Eliot's strange magic. Tess is plagued by terrible dreams of the devil and haunting memories of a boy who wears Eliot's face. All she knows is to stay free, the demon needs her… and he'll have her, dead or alive.
Marked of the Wicked by Georgia Bowers
A young witch tries to unravel the mystery of who is framing her for dark magic in Georgia Bowers' creepy YA debut fantasy, Mark of the Wicked.
Magic always leaves its mark.
All her life, Matilda has been told one thing about her magic: You use only when necessary. But Matilda isn't interested in being a good witch. She wants revenge and popularity, and to live her life free of consequences, free of the scars that dark magic leaves on her face as a reminder of her misdeeds.
When a spell goes awry and the new boy at school catches her in the act, Matilda thinks her secret might be out. But far from being afraid, Oliver already knows about her magic – and he wants to learn more. As Oliver and Matilda grow closer, bizarre things begin to happen: Animals show up with their throats slashed and odd markings carved into their bodies, a young girl dies mysteriously, and everyone blames Matilda. But she isn't responsible — at least, not that she can remember. As her magic begins to spin out of control, Matilda must decide for herself what makes a good witch, and discover the truth…before anyone else turns up dead.
The Sisters of Reckoning by Charlotte Nicole Davis
The Sisters of Reckoning is the blockbuster sequel to Charlotte Nicole Davis's alternate Old West-set commercial fantasy adventure.
The Good Luck Girls are free. Aster's sister and friends have new lives across the border in Ferron, while Aster remains in Arketta, helping more girls escape. But news of a new welcome house opening fills Aster with a need to do more than just help individual girls. And an unexpected reunion gives her an idea of how to do it. From there, grows a wildly ambitious plan to free all dustbloods, who live as prisoners to Arketta's landmasters and debt slavery.
When Clementine and the others return from Ferron, they become the heart of a vibrant group of fearless fighters, working to unite the various underclasses and convince them to join in the fight. Along the way, friendships will be forged, lives will be lost, and love will take root even in the harshest of circumstances, between the most unexpected of lovers.
But will Arketta's dustbloods finally come into power and freedom, or will the resistance just open them up to a new sort of danger?